ICO Surface Coatings
Tool Coating Services

ICO Surface Coatings offers a full range of high performance PVD coatings for tooling and wear applications. Our advanced coatings give you performance properties you're looking for:
Longer life
Faster speeds & feeds
Higher hardness
Better shock resistance
Less edge build-up
Greater lubricity

We continually develop new and improved coatings to help customers improve tool productivity, increase quality and reduce productions costs. We offer coating and re-coating services for all types new and used tools:
Drills
Taps
Reamers
Milling cutters
Hobs
Punches
Gears
Saws
Wear parts
Our Standard PVD coatings are:
TiN
TiCN
AlTiN
SS1218
Phoenix
Custom and proprietary coatings also available.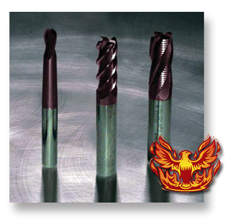 NEW Phoenix™ Coating
Our new Phoenix™ multilayer universal coating can deliver 2 to 3-times the productivity of regular TiN coatings. This coating combines the best properties of TiN, TiAlN and TiCN to provide real value for our customers. Check out Phoenix specs here.

High Quality. Fast Deliveries. Great Prices.
The top three things you want out of a tool coating supplier. ICO Surface Coatings gives you all three–and then some.